What should you do if a major storm batters your home in Ireland and potentially leads to a significant loss?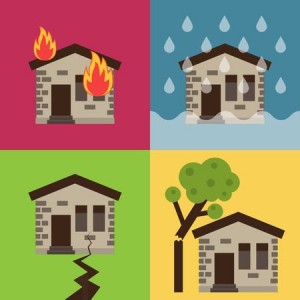 Mother nature can be quite cruel and that is why we try to protect one of largest assets from storm damage by insuring them, unfortunately all too many of us, don't read the small print when taking out the insurance policy which leads to a lot of headaches when making an insurance claim.
Naturally, we have a bias view that you should contact a loss assessor immediately when you become aware of a loss as it is our experience that our clients gain at least a 30% better settlement offer net of our fee's. this is also proven in our client satisfaction surveys whereby we received 99% positive feedback and all 99% percent said they would recommend our services to anyone in a comparable situation.
Please note there is a major difference between the remit of a loss assessor and a loss adjuster therefore it is important you speak to independent loss assessors as early as possible within the insurance claim process.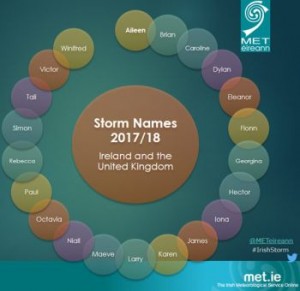 Did you know that Iona, Larry and Niall could all be heading our way soon, these are among the names of storms for 2017 / 2018 which was established by Met Eireann and the Met Office in the UK. If we manage to reach Victor or Winfred the chances of you having to make an insurance claim due to storm damage are quite high.
A storm gets named when it is deemed to have the potential to cause medium or high impacts to the UK and/or Ireland, they allege when naming a storm, it will increase awareness with apparently 89% of the people surveyed after last year's storm Doris being aware of the severe weather.
Last year didn't have that many storms with just 5 named which begun in November 2016 with Angus and ended with Ewan in late February.
The season of 2015/ 2016 was a lot more active which started with Abigail in mid-November and continued to Katie at the end of March. I recall flooding in Meath in January 2016 where there was never any flooding in living memory.
When making a storm damage insurance claim the Peril Storm only becomes active when the winds are high enough to reach the definition of Storm as defined on the Beaufort scale. In Ireland, these winds are recorded in the following locations,
Malin Head & Finner– Co. Donegal
Markree – Co. Sligo
Knock Apt, Belmullet, Claremorris & Newport – Co. Mayo
Mt Dillon – Co. Roscommon
Ballyhaise – Co. Cavan
Mullingar – Co. Westmeath
Dunsany – Co. Meath
Dublin Apt, Phoenix Park and Casement Aerodrome – Co. Dublin
Macehead & Athenry – Co. Galway
Shannon Apt – Co. Clare
Valentia – Co. Kerry
Cork Apt, Moorepark & Roches Pt. – Co. Cork
Johnstown Castle – Co. Wexford
Carlow – Co. Carlow
Gurteen – Co. Offaly
Given the fact that the East coast of Ireland is a lot more populated it would seem unusual that there are fewer weather stations in the east than the west however I assume there is some methodology which could be linked to the Atlantic but this causes problems when making insurance claims as wind tunnels often appear and without the correct information insurance companies won't make payment for your loss.
Farmers should also check their insurance policies as quite frequently one particular insurer has a habit of selecting only some buildings to insurer for storm therefore unsuspecting farmers when contacting their insurance company do so only to be told that no cover exists for their damaged farm shed.
If you have a storm damage claim and wish to get independent advice that will help you maximise your settlement offer please contact us