We live in unprecedented times, the last great snowfall in Ireland was in 1982 some 36 years ago.
There are many risks that are now presented as a result,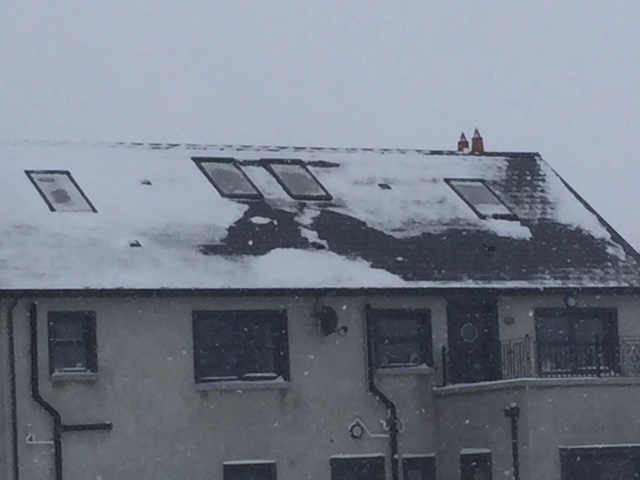 Fire – Fire engines won't be able to travel at good speed and indeed will need to look for hydrants for access to water. Due to the fact that every minute counts when you have a fire these secondary factors do not help. Public safety should be at the fore of peoples minds as material loss can be replaced.
Storm – the blizzard when it hits land will have excessive force therefore strapping all loose items in the garden should be completed. Falling aerials, masts, satellite dishes or security cameras are all possibilities during a blizzard.
Flood – when the snow begins to melt floods will occur.
Falling trees and branches may occur during the storm.
Water damage due to burst pipes is a strong possibility due to the fact most of the heating systems are within the attic. Furthermore, our heating systems are being tested due to the freezing temperatures.
The reason you should employ us as your loss assessment company is due to the fact we will achieve on average at least a 30% better settlement on your behalf.
Just like a court of law, you wouldn't enter the court room unrepresented therefore why would you do this within an insurance claim. A loss Adjuster is employed by an insurance company therefore is not independent, many loss adjusters discourage unsuspecting people to not employ a public loss assessor which is against your consumer protection rights.
Thankfully, Ireland has a consumer protection code which sets out binding corporate rules on what insurance companies can and can't do when it comes to consumers making insurance claims.
One of these would be that they can't ask excessive questions when they are "fact finding" about the validity of a claim. We are able to cite a number of cases which would be of relevance within the matter.
Contact us today to exercise your consumer rights and obtain the maximum legitimate settlement possible within your insurance claim.