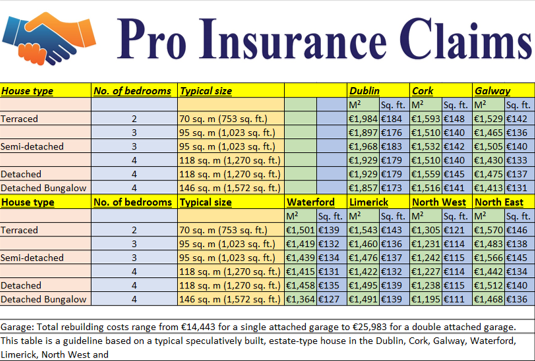 Download excel version. 
Insurance Professionals and the general public should be aware of the price increases within home building rates as per August 2017.
The increases from the previous table of costs are as follows,
Dublin rebuilding costs have increased by between 3.27% and 3.52%.
Cork rebuilding costs have increased by between 1.96% and 2.48%.
Galway rebuilding costs have increased by between 1.51% and 2.31%.
Waterford rebuilding costs have increased by between 1.39% and 1.57%.
Limerick rebuilding costs have increased by between 1.42% and 1.53%.
North East rebuilding costs have increased by between 1.94% and 2.01%.
North West no change.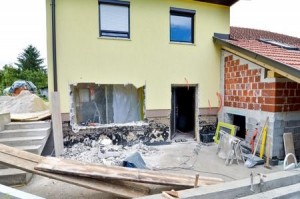 The above table acts solely as a guide for rebuilding costs and should be used on this basis. Pro Insurance Claims accept no liability in respect of persons incorrectly calculating the value at risk (VAR) within their property. You should seek the advise of a professional if your are unclear as to how to apply these rates. Above standard finishes need to also be accounted for within the VAR, which are items like wardrobes, special finishes, disabled ramps and systems, etc.
Frequently asked questions, 
The market value of my home is less than these guide prices, can I not insure for the market value? 
No, when you purchase your insurance, the liability the Insurance Company take responsibility for is the re-build costs therefore the market value has no relevance within a policy which has a "new for old" condition and is susceptible to "average"
Can you explain the term "average"?
If you insure your property for €100,000 and the Value at Risk (VAR) is calculated at €200,000. Should your claim be accepted at €10,000 you will get paid €5,000 due to the fact the insurance company will assume you are the insurer of the uninsured proportion of your property. It is important to note, not all insurance policies hold the condition of "average" and "wear & tear" clauses may apply which is a more traditional approach to indemnity.
Why can you not apply one general rate for buildings within the country? 
Houses vary in type, as a lot of the cost is relative to labour, prices do vary depending on access, traveling time, etc. This only acts as a guide therefore if your property is outside of these ranges you should seek professional advice.
How do I measure a property? 
Draw a plan of the property and take internal measurements. Then multiply the length x width x the number of levels in the property. Remember Dormer properties should be calculated at a lower amount on the first floor rather. It might be best to actually measure it individually if unsure.
My house is larger, i.e. 5 bedrooms or more, what should I do? 
Unfortunately we cant create a "one size, fits all" therefore you should seek guidance on this as the rate may be less due to economies of scale.
There are no specific definitions of the regional areas therefore areas on the peripheral of an area should seek professional advice before applying an exact rate.
Should you require any further advice regarding how this Home Re-Build Costs Increase affects you,  please do not hesitate to contact us.